GashubUnited Utility helps companies reduce their CO2 emissions with LNG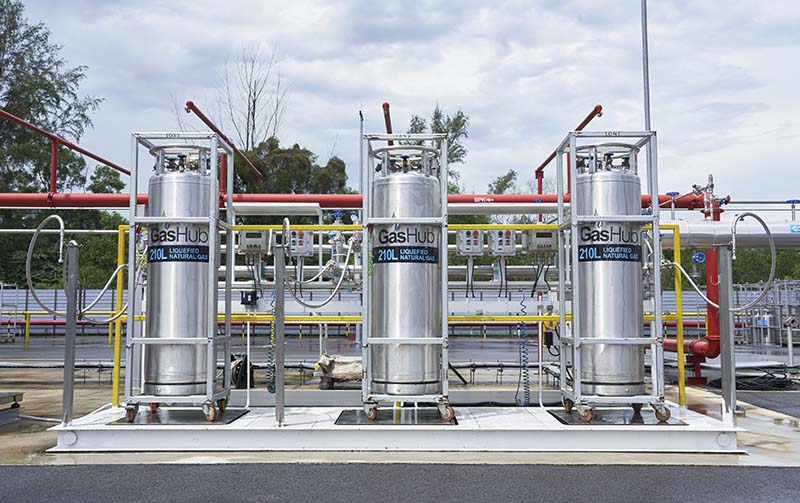 SINGAPORE – IT might interest some to know that when 600 cubic metres of natural gas is cooled down to minus 162 deg C, the size is reduced to just 1 cubic metre.
Liquefied natural gas (LNG) is thus a form of energy that is efficient for transportation and is much less carbon intensive than traditional fuel sources, said GashubUnited Utility's chief executive officer Bentinck Ng. GashubUnited Utility, an arm of the Gashub group, was launched in April 2017. It specialises in the distribution of LNG, and helps companies replace existing fuel sources such as diesel, fuel oil, liquefied petroleum gas (LPG) and even town gas. Apart from ease of transportation, LPG and diesel are commonly used forms of fuel which are heavy hydrocarbon fuels, Ng said in a recent interview with The Business Times.
"LPG generates about 12.5 per cent more carbon dioxide (CO2) as compared to LNG. For the case of diesel, you actually generate about 32 per cent more CO2," said the 52-year-old. On its website, the company highlights that it goes beyond the traditional method of transporting LNG using large 20-footer ISO containers. They instead break the gas down into smaller 210-litre cylinders over at their Jurong Island re-bottling site to reach out to their clients more efficiently. These cylinders are largely similar to industrial LPG cylinders.
Although the team has just 10 staff on the payroll, the company's clients include small and medium-sized enterprises (SMEs) and large multinational firms too. They are mainly industrial and commercial customers, including central kitchens and companies in the manufacturing sector.
Ng said the demand for alternative green energy sources are on the rise because of cost savings and the push from the national level to reduce carbon emissions. "It's not us alone, but even the Singapore government is moving a lot into this area of LNG," he said. Currently, GashubUnited Utility taps the existing LNG terminal at Jurong Island. Although this terminal is not fully utilised yet, there are already talks to build another terminal in the eastern region of Singapore, said Ng, who noted that this is a testament to the growing demand for LNG at the government and industrial levels.
GashubUnited Utility utilises proprietary equipment that it has termed "combined heat and power technology". The technology uses LNG to produce usable energy and electricity, he said. "We are not just involved in distribution, but our idea and plan is always to provide a total solution for clients to make sure they are using fuels that have low carbon emissions," he said.
The company currently owns 5 licensed and approved intellectual property patents. They work with institutes of higher learning such as Nanyang Technological University and the Agency for Science, Technology and Research to come up with more advanced technologies for their business. GashubUnited Utility is now developing what it calls "carbon capture technology", which will further reduce carbon emissions for its clients to help them achieve the "zero emissions target", said Ng.
On Nov 10, GashubUnited Holdings signed a memorandum of understanding with P5 Capital Holdings, a Catalist-listed company on the Singapore Exchange. This would see the investment holding company acquire 51 per cent of GashubUnited Utility for a purchase consideration of some S$13.4 million. The acquisition is conditional on the entry of both parties into a definitive sale and purchase agreement within 3 months from the date of the MOU. The acquisition will hopefully happen within the next few months, said GashubUnited Holdings CEO Aviers Lim. "This is to accelerate the whole process of commercialisation and bring in more business expansion," added the 52-year-old Lim.
Lim added that GasHub would retain 49 per cent ownership so that when the company grows in size and has "bigger numbers", they can then with the help of P5 Capital, spin off to become a separately listed entity.
Challenges and discovery
GashubUnited Utility only managed to start operating their rebottling plant in Jurong Island around the end of September this year, due to delays in setting up the plant. "When we were starting out, after about 3 months, everything had to stop. Because of Covid-19, we had to shut down for at least 9 months," Ng said. Even though building works were allowed to go ahead late last year, many of the migrant workers that the company depended on to construct the plant were unable to come out of their dormitories to work during that period, recalled Ng.
On the bright side, because of the pandemic, many businesses had the time to take a breather and consider alternative solutions for lowering their costs, which led to more clients coming on board, said Ng. "SMEs and MNCs (multinational corporations) alike are now more and more looking into the direction of CO2 emission reduction. Our solutions provide both benefits – cost-savings as well as CO2 emissions reduction," said Ng.
Venga Subramaniam
The Business Times